Every outdoorsman knows what backpacking is and has probably had a few of their own experiences in the backcountry. But, Ultralight Backpacking is a different beast with not as wide of use as the traditional method. So, what exactly is it? Ultralight Backpacking is a style of backpacking that emphasizes carrying the lightest and simplest gear safely possible for a given trip. A backpacker's base pack weight (the weight of a backpack plus the gear inside & outside it, excluding consumables such as food, water, and fuel, which vary depending on the duration and style of trip) is reduced as much as safely possible. Then, reduction of the weight of consumables is applied to the base pack weight. That total weight is what ultralight backpackers try to reduce as much as possible.
When it comes to ultralight backpacking, most backpackers try to stay around 10 lbs. or under. However, it is okay to practice ultralight as more of a frame of mind than an actual pack weight. The principles of trying to benefit from a lighter pack weight can be applied by anyone.
Benefits of Lighter Weight
It is hard to find someone who doesn't agree that a lighter pack means a better hike. These tips come from Hiking Dude and explain reasons to go light:
Less tired at the end of the day
Cover more miles of trail and see more sights
Travel more challenging terrain
Less stress on legs, lowering probability of injury
Less time needed to cover a certain distance which means less food and supplies needed
Extends the hiking years for older hikers
Carrying 25lb instead of 50lb is more comfortable all day
And, a few common concerns:
Unprepared for emergency situations, such as injuries or bad weather (Always include adequate first aid and weather protection though)
Sacrifice comfort, like sleeping pad and warm clothes
Lighter gear costs more
Lighter, stronger materials are more expensive – but check into making your own.
Lightening your load doesn't need to be a revolutionary event. You can evolve your gear and acquire lighter items as needed. Always keep safety a Number One priority whenever heading outdoors and take the first aid and emergency items that really make sense.
The Big Three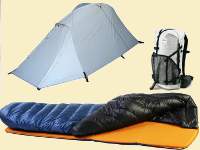 The best way to lower your equipment weight is to concentrate on reducing three key areas and then work on from there. These three areas account for the majority of your pack weight:
Shelter – tents, tarps or bivys are all options for shelter depending on your preferences, insects and expected weather.
Sleep System – sufficient insulation from the ground and air to keep you warm all night is the requirement. There are dozens of sleeping pads and sleeping bags from which to choose, using different insulation types and amounts resulting in different temperature ratings and comfort levels.
Pack – the pack in which you carry everything weighs something itself. Some framed packs may weigh 7 or more pounds. An ultralight frameless pack can be under 1 pound. There are many choices in the sub-3 pound range.
Working on getting your Big Three weight under 8 pounds (or lower) is a good starting goal, but don't get a lightweight pack before reducing the weight you will put in it. Lighter packs are intended to carry lighter loads
Getting Started
Step 1: Get a scale. Weight is everything in ultralight backpacking. Buy a 5-pound-capacity postal scale and write down the weight of every single item you plan to pack. When deciding between similar things, always choose the lighter one. When it comes down to it, let the scale make all the decisions.
Step 2: Plan your food carefully. Bring 2 liters of water in light, reusable bottles. When planning meals and snacks, look for foods that pack about 125 calories, or more, per ounce. Try to keep food at 1lb per person, per day.
Here are a few good ideas of calorie-dense foods to consider:
Olive oil ~ 248 calories per ounce
Peanut butter ~ 165 calories/ounce
Cashews ~ 155 calories/ounce
Dark Chocolate ~ 153 calories/ounce
Shortbread cookies ~ 150 calories/ounce
Trail Mix ~ 130 calories/ounce
Triscuit crackers ~ 120 calories/ounce
Cheddar cheese ~ 113 calories/ounce
Step 5: Cut down your weight. Ultralight Backpacking is all about packing as light and as efficient as possible. Practiced ultralight packers use their scale to weigh everything. They forgo heavier things for their lighter alternatives and cut back on luxuries. For example, cut your toothbrush in half and leave the heavy handle behind. Now, your toothbrush is half the size and half the weight!
Here are a few weight-saving hacks:
Shamwow cut down to a smaller size as a towel

Take the hip pads off of your bag, trim the straps
Go without deodorant
Bring a mini-size hand sanitizer
Use contact cases to hold things like petroleum jelly, moisturizer
Dry baby wipes weigh less than wet baby wipes
Bring a travel size toothpaste with
Carbon Poles are the lightest
The Sawyer brand water filter is one of the lightest available
Cuben Fiber tents are some of the lightest available or split the tent weight between multiple peoples' packs
Leave the tent stakes at home and use rocks or sticks to hold it down
Put new batteries in your headlamp so you don't have to carry spares
The MSR PocketRocket 2 stove is lighter and smaller than its celebrated original
Big Picture
If you're thinking about giving Ultralight Backpacking a try, start with small changes. You don't need to buy all the gear at once, as it can get expensive. Start slowly incorporating ultralight gear into what you already have.
Another easy way to get started is to simply find one thing you will do differently to lighten your pack. Whether it is cutting back on luxury items or being smarter about what foods you bring, having this goal will help you begin to change your entire frame of mind about backpacking.
Finally, exercise is an easy way to lighten the weight your body is carrying! Not only does this make it easier on your joints, consistent exercise will build up your endurance for those longer hikes.
Whether you are backpacking the traditional way or are ready to try ultralight, the most important part is being prepared for whatever may come your way. Check out this post on survival in the outdoors and what it takes to be prepared.
Are you an ultralight pro? Share your tips and tricks below!